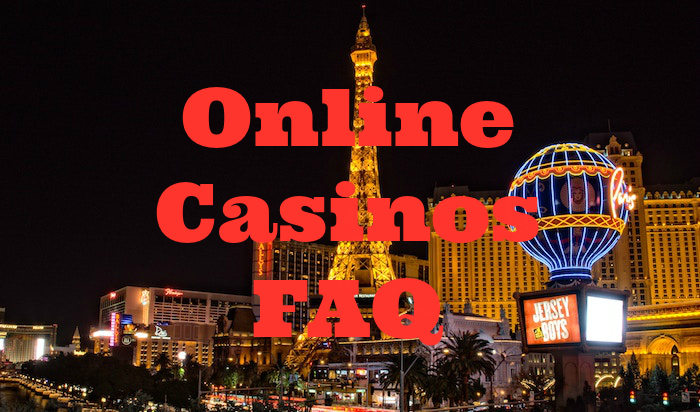 You don't have to be nervous about playing at an online casino. Once you know how to choose the right online casino and register an account, you'll have fun exploring all the slots and table games you can play on your laptop or smartphone. Below you'll find the answers to some of the most common questions new players have about online casinos.
What is the difference between in-house and online gambling?
Online gambling is a relatively new creation that brings all of the fun and excitement of a real-life casino into your home. Whether you enjoy table games, slots, or anything in between, online casinos offer hundreds of options and provide hours of entertainment.
The secret lies in the specialized software that is made to emulate machines in a casino. Some of the best online casinos today even feature live games, where a live dealer deals real cards which can be interacted with digitally. The only thing that's missing is cheap alcohol and the obnoxious chain smokers!
What is a welcome bonus?

A welcome bonus is an incentive that most online casinos give new customers for signing up and depositing funds. These bonuses range from deposit matching, where your initial deposits will be matched by 100, 200, or even 300%, and free spins that can be used on your favorite online slots to win real money.
The freebies don't end there, however, as most online casino sites enable players to get new bonuses every day that can be used to play some of the most popular online games.
How do I choose the right casino for me?
No matter what your preferences or style of play, you're bound to find an online casino that has all the features you want. Find a casino that's licensed and regulated, offers a good welcome bonus and regular promotions, has all the games you love to play and makes it easy to deposit and withdraw funds.
You should also look out for casinos that partner with the best software companies. You'll enjoy playing the games more if the graphics are sharp and clear. A good online casino should also protect your private information with the latest encryption software. Read as many reviews as you can and take some time to explore the online casino's site before you create an account.
How easy is it to create an account with an online casino?
All you have to do is provide some basic information to the online casino including your name, surname and email address. Some casinos may ask for a legally accepted form of identification such as an I.D. number. This helps to protect against fraud. You can find all the details in the online casino's terms and conditions. Be sure to read this thoroughly before you create an account.
Then you'll need to verify your account before you can start playing. The gaming provider will normally send you an email with a link that you can click to confirm your registration. Once your account is up and running, you can make your first deposit and start playing.
How do I make a deposit?
Adding funds to your account is quite simple. There are generally three different types of banking options offered to players. These include:
Debit and Credit Cards
You can use your debit or credit card to transfer money into your account with an online casino. The transaction only takes a few minutes and is quite safe provided the online casino has the necessary security in place. Credit cards such as Visa, MasterCard, and American Express are well-known and accepted at almost all online casinos.
eWallet
Thanks to the internet, you can transfer money quickly and easily using a number of eWallets such as PayPal, Skrill, and Neteller. These are the most popular eWallets but there are many more you can use.
Wire Transfer
Although this method is slower, it's preferred by users who are skeptical of online payment services. Once again, most casinos are happy to accept wire transfers.
How can I withdraw my winnings?

In the same way that you can use a variety of banking options to deposit money into your account, you can use any of the methods mentioned above to withdraw your winnings. The only problem you may encounter is that while an online casino will accept a deposit using a particular banking method, it may not offer the same option for withdrawing funds. For example, you may be able to add funds to your account using an eWallet such as PayPal, but you cannot withdraw funds using PayPal.
For example, you may be able to add funds to your account using an eWallet such as PayPal, but you cannot withdraw funds using PayPal. This is why it's so important that you find out what banking options the online casino offers for deposits and withdrawals.
How long will it take to get my money?
It's not unusual for online casinos to impose limits on withdrawals. For example, you may be limited to a figure of $5,000 a week. This means that if you have $10,000 in your account, it will take you two weeks to withdraw all of your winnings. And depending on the banking method you use, it could take anywhere from 24 hours to a few days for your transaction to be processed.
Withdrawing to online banking services like PayPal usually takes the shortest amount of time, while a bank transfer generally requires a longer wait. Make sure you read withdrawal specifics before depositing money or simply check out our reviews and know beforehand.
Are there any limits to how much I can win?
While there may be monthly withdrawal limits, there is no limit to how much you win with an online casino, but it's best to set a budget and stick to it. By gambling responsibly, you can reduce your losses and increase your enjoyment.
What do I need to know about progressive jackpots?

Progressive jackpots grow with every spin of the slot reels. You and your fellow online casino players all contribute to the jackpot, which can grow to the hundreds of thousands or even millions of dollars. Your odds of winning the progressive jackpot are just as good (or perhaps long) as winning any other big prize.The withdrawal rules for
The withdrawal rules for progressive jackpots often differ from the general rules associated with transferring your winnings. If you do win a vast sum of money, you will be contacted by the online casino to arrange for a special transfer instead of having to do so piecemeal.
How do I know I can trust an online casino?
All of the casinos featured on our site have proven to be trustworthy not only through their current business practices but in how they have historically managed their operations as well. Security is our top concern, and it should be yours, too. It is therefore recommended you only play on a site that demonstrates a commitment to your online safety.
Some important features to look for are the HTTPS security protocol, data encryption, secure money transfer, the eCOGRA logo, and that an online casino functions within the jurisdiction of a nation that has tough laws and punishments for swindlers and cheats.
Who can I speak to if I have an issue?
The top online casinos have customer support that functions either 24/7 or at peak hours when most players are online. This support is generally offered via email, live chat, or even a telephone line. Because online casinos want happy customers, they strive to ensure that all matters are handled promptly and in an effective manner.
Where do I go once I am ready to try out an online casino?
Read about the online casinos you're interested in before you sign up and you'll discover how much fun they can be. You can play a variety of slot machines and card games without leaving home. The sharp graphics and smooth gameplay offered by modern online casinos make the experience quite realistic.
Where can I learn more about gambling addiction?
Gambling can be an entertaining way to pass the time, make new friends, and even win money. For many, gambling has a dark side and can become an addiction that can result in financial ruin. If you are concerned about yourself or someone you know, reach out to local gambling addiction helplines and get the help you need. Everything should be taken in moderation and once it isn't it could mean trouble.