Craps is a contemporary casino game with origins that reach back in history, passing the test not only of time, but of culture as well. The most likely reason for its endurance and popularity leading up to today is its purity of concept and versatility of application. The premise of the game is to risk chance upon chance by tossing a pair of dice.
Participants shoot, aiming for the end of the casino table (preferably hitting the wall), hoping to earn the numbers for which they've placed a bet. Played by military personnel in times of war as well as by civilians along the road (the game has its name due to the toad-like position of crouching over the ground in a toss), it was and is a society favorite. Today, that versatility is taken to a whole new level, as craps can be played at an on-site casino and also online.
Read on for the best online craps available and try this famous game in the comfort of your home.
What is Online Craps?
Craps is a long-loved game of risk which can be played between one person and a dealer or among a crowd of people. It is enjoyable either way, and its versatility, coupled with complex, adrenaline-triggering rules, makes it a casino favorite. In a city casino, there's often a flock of people surrounding the table, hoping that their bets will turn up. In online craps, the situation is similar, but you play via live stream where players take turns getting directions from the dealer and use a chat application to speak to each other. Alternatively, you can play craps at a virtual, automated online casino.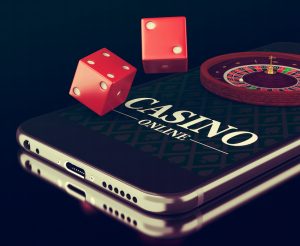 Playing Craps In-Person vs. Online
There are slight differences between craps played in person and online. The chief difference is the energy you may feel. Unlike other casino features such as slot machines, craps is popular due to the excitement felt by the many people crowded around the table with the risk of funds to lose or gain.
Be aware of this key difference when deciding to play craps online: Due to the difference in socializing, it is recommended to choose a live online casino rather than an automated game.

You will still lose out on some of the thrill of being there in person, but nowadays, online streaming is so powerful that you will be able to experience some of the fun.
Playing Craps Via Live Streaming or Automated Online Casino
In order to have the best social and interactive experience playing craps online, choosing a live casino option is ideal. Further, we suggest experimenting with various live casino options in order to find the one that gives the graphics, layout, and real-time experience you're seeking. However, if you don't care much about mixing and mingling with other players and you don't yearn for the highs and lows of cheering or moaning people's real outcomes, you might alternatively consider playing a virtual online craps game.
When playing on a virtual system, there are no other people you're up against: It is just you and the software programming. Some people might feel uncomfortable with this, wondering whether the game results are randomized or if they are, in some way, pre-arranged for your losses. However, automated casinos are operated by software that is thoroughly tested and undergoes approval, including and especially the aspect that randomizes outcomes. The programs that ran virtual craps games cannot be tampered with by its company, which makes automated craps, though less social than its live counterpart, a viable option for winning big.

Beginner's Moves for Online Craps
Before you begin playing, you will want to memorize the meaning of the phrases pass, don't pass, come bet, don't come bet, come out roll, and points roll.
To get started with your very first toss, place your bet either on the pass line or the don't pass line. Next, choose two dice from the dealer's hand of five and make a come-out roll. Try to hit the wall at the other end of the table with your dice. If you roll 2, 3, or 12, that means you've hit the don't pass line. If you bet on the pass line, you lose (that's called 'craps'), but if you bet on the don't pass line, you're doing okay. If you roll a 7 or 11, it's called a natural roll. If you get 4, 5, 6, 8, 9, or 20, the black puck is put on a number which becomes a new point, and you move on to an extra roll.
How to Win at Online Craps
There are hundreds of ideas expert players have attested to regarding how to win the highest amounts most regularly by playing craps. One common concept is to maintain consistency with your bets: Continuously bet on either the pass or the don't pass. Ideally, your winnings should exceed your losses over time.
Frequently Asked Questions
What's the difference between the 'come out roll' and the 'point' phase?
The Come Out Roll refers to the first stage of the game. This is when players must place either a Pass or Don't Pass bet on the table before the shooter rolls the dice. If the shooter rolls any number other than a 2, 3, 7, 11 or 12, that number becomes the point for the game.
Once a point number has been established, players place a Pass or Don't Pass bet. If the shooter rolls that number before they roll a 7, the Pass Line bets win. But if they hit a 7, the Don't Pass bets win. This is really all you need to know about the game before you can start playing.
Is craps a difficult game to play?
Not at all, but it can be a little intimidating for new players. That's often down to the fact that the board can be a bit confusing. If you take the time to learn the basic rules and the different bets you can place, you'll find craps is a very simple game to play. Many online casinos offer free craps games so you can test your skills before you start playing for money.
What are the odds for online craps?
Any casino game will always have odds that favor the house, but with craps, your chances of breaking even are around 0.67%. This is a game based purely on luck, and not skill. And while there are many tips and strategies floating around, the best thing you can do is learn is the rules of the game and payouts for each type of bet you can make.
Even if you use a strategy, it's no guarantee that you'll win big. But it may help you control your bankroll and make your money last a little longer.
How does online craps differ from playing live?
For a start, you won't be able to avoid being the shooter. Because you can't play online craps with other players, you'll always be the shooter. But this is ideal for new players who may be nervous about throwing the dice in front of a crowd of strangers.
And, as with many other online casino games, a random number generator is used to determine the numbers rolled. But these differences don't take anything away from the thrill of playing craps.
That being said, there are plenty of risk-taking strategies. But the best way to learn is to get started. Have a look at our list of online craps casinos and choose the one that's right for you.