To my knowledge, Pokio clubs is the first native mobile poker app to receive a gambling license from the Malta Gaming Authority (MGA).
Pokio, which launched in 2017, is a mobile poker app that allows users to play cash games and tournaments on the go from their smartphones or tablets. The Pokio platform boasts a cutting-edge user interface that was developed with the player's comfort in mind. Pokio is managed by the Maltese firm Qufan Internet Technology Ltd, which employs many people with extensive backgrounds in the iGaming industry and is responsible for the site's day-to-day operations.
To have fun with friends, Pokio was made to be played on a social poker app. Although Pokio is more like a standard poker operator than other mobile poker apps, the fact that the games are played almost exclusively on smartphones sets it apart from online poker sites made for PCs. Interested in playing Heads-Up against a legend like Ilari "Ziigmund" Sahamies or Viktor "Isildur1" Blom? Don't worry; we've got you covered; all you have to do is join Pokio to locate the tables they're playing at.
Inner Workings of Pokio Poker
As with other real cash smartphone poker apps, Pokio features a variety of unions (called circles on Pokio), clubs, and agents, but there is one key difference between Pokio and its competitors. In-app deposits and withdrawals are supported by several methods on the Pokio poker app, thanks to the company's Maltese gambling license for providing P2P poker games to players worldwide. This makes Pokio Poker a great option for players who would prefer to use a credit card to fund their accounts rather than Bitcoin or an electronic wallet. To comply with Malta's gambling laws, Qufan Internet Technology Ltd stores player funds in separate bank accounts.
Pokio has enabled everyone to form their own club and join a circle, the collective noun for unions, to facilitate larger player pools. In this way, you and your pals can get together and play social poker games for real money against a large number of other players from different clubs who are all part of the same poker circle. Norway, Sweden, and Finland are all within the scope of Pokio's current circles.
However, we anticipate that once Pokio reaches a certain number of players, there will also be additional Pokio poker circles and clubs globally. Diamonds can be used for in-app purchases, such as a higher VIP tier, and outside the poker app. If you're one of the many poker players who can't stand losing money due to a bad beat, Pokio offers all-in insurance that guarantees you'll get your fair share of the pot regardless of the outcome of the hand.
Pokio's cash games and tournaments are easy to join and similar to apps you already know such as upoker club app. After obtaining the Pokio Club ID from a club owner, sending a request to join their club, and buying some chips from within the Pokio app, you can begin playing directly from your mobile device. One of the best aspects of Pokio is the shared wallet feature across all clubs, which allows you to use your deposited funds at any Pokio club you choose. You'll pay a small rake when you play, but if your club owner offers Rakeback, you can get a portion of that money back each week. Go to the poker app's wallet section and request the amount you'd like to withdraw.
Pokio Poker Popularity
The King's of Tallinn tournament and the Cash Game Festival, both held in various European cities, are just two of the many tournaments and poker events that featured Pokio.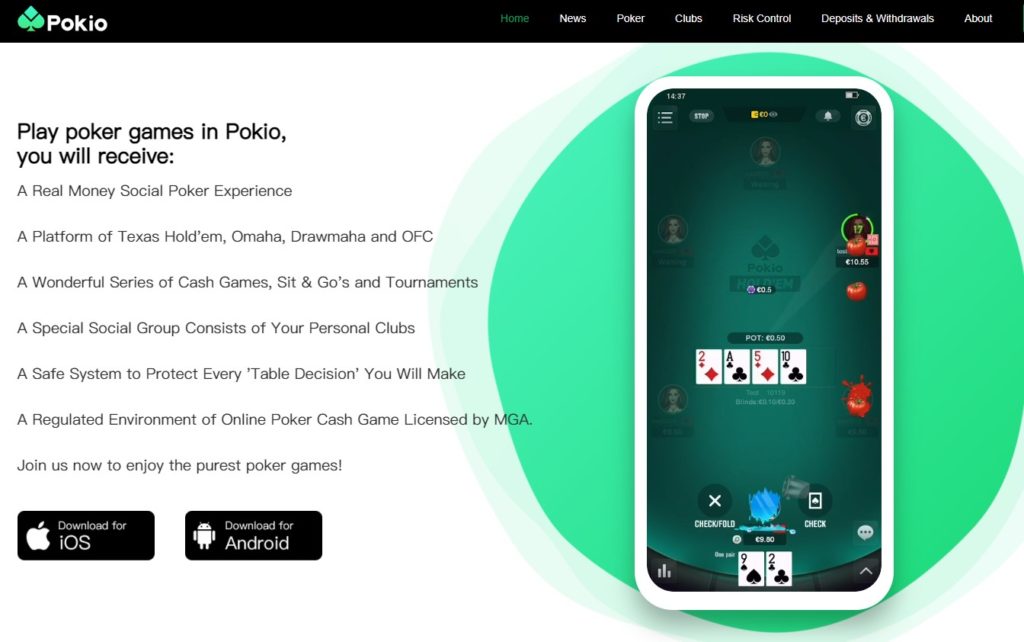 Pokio has many things going for it, including great regular promotions that should make the app very popular among players. A few of the main reasons we're confident in its eventual success are as follows:
Pokio makes it simple for their customers to fund their accounts using major credit cards and electronic wallets.
Playing against international opponents and famous pros like Ilari Sahamies and Viktor Blom in a club setting can be an unforgettable experience.
While Pokio's rake is higher than some of the big global names in poker, the overall level of play is much softer, and recreational players like the app's various features. This makes Pokio a perfect real money poker room, not just for amateurs but also for professionals who enjoy playing some of the most famous game modes offered by Pokio.
Pokio incorporates social elements into its gameplay, such as the option to throw tomatoes at your opponent if they hit a gutshot or 2-outer against you on the river.
Pokio clubs
You can check out all the clubs you're a part of by tapping the "Club" tab in the app. If you click on the name of a club, you'll be taken into the club's lobby, where you can participate in any games or read any general chat that's going on. It only takes a few clicks to find the perfect game. Knowing the Pokio Club ID makes it simple to join a group; we've researched and listed the clubs with the most exciting events for our players.
After selecting a club, prospective players can apply for membership and then navigate to the club's lobby, where they can click on the Games tab to view a list of all the tables, complete with the game type, the number of players at each table, and the stakes for each game being played. In addition, a filter can be used to search only for tables of a certain game type.
Pokio App: Design, Aesthetics, and Functionality
After giving the Pokio platform a try, we discovered the gameplay to be quite streamlined, thanks to the developer's attention to detail in making the software as user-friendly as possible. The check, raise, fold, and bet size buttons all worked as expected.
Pokio has a gaming license issued by the Maltese government, so you know you're playing in a safe, fair, and regulated environment when you play poker for real money on the site. Other similar regulated platforms are KKpoker or licensed applications. Accurate random number generators ensure fair play (Random Number Generator). This ensures that players on Pokio will receive roughly the same number of positive and negative cards in the long run.
Clubs: All of a player's affiliated clubs
Pocketbook: Bank Account Where You Can Make Withdrawals And Deposits
Statistics: A player's overall performance data across all game types
Joinable Games Tab: Subdivided Into Cash Game, Multi-Table Tournament, and Single-Table Tournament Sections
Me: Account details and account preferences
We put the game through its paces on an iPhone 8, an iOS device, and found it to be a pleasure to play. It's simple to locate your preferred poker room and begin playing. In this poker app, the entire interface, including the tables, is decorated in a lush green, making it simple to locate and use the various game controls. A flag next to each player indicates their home country, and a light on the table indicates the current player's turn. A player's Heads-Up Display card will pop up when you click on their table name. Important player data like VPIP, PFR, and Win Rate are displayed in this HUD. Accessing your personal statistics across all supported game modes is as simple as going to the app's main view and tapping the "Stats" tab from the navigation bar.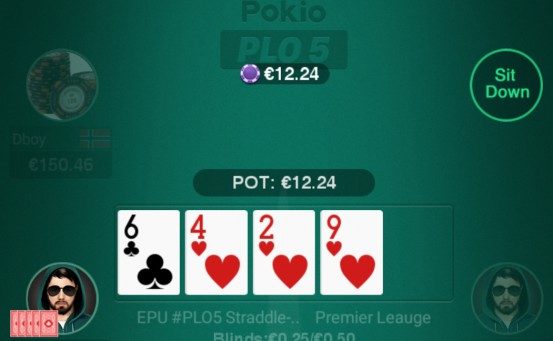 At the poker table, the portrait mode displays only the information that's most relevant to you, and you can set your phone to vibrate or make a sound when the action is on you. We found that being able to run it numerous times helped a lot with minimizing the effects of randomness, risk, and bad beats. If there are two or more players and you have a 50-98% chance of winning, you can run it multiple times. With an all-inclusive insurance policy, you are assured of a payout no matter what. You can even add an image of yourself as an avatar. Pokio does not support third-party trackers like Holdem Manager or heads-up displays (HUDs) to maintain a balanced poker ecosystem.
After creating an account, you should navigate through the primary sections of the app (Club, Stats, Play, Wallet, and Me) to become acquainted with all the features. During our testing, we didn't have any trouble understanding how to use any of these features, but if you do have any questions about the Pokio poker app, you can email the developer directly at support@pokio.com.
And How about the Stakes, Games, and Excitement Level per Table?
Everything at the tables, from deposits and withdrawals to the purchase of chips, is done in Euros.
Pokio has you covered with every major variation and some pretty out-there options when it comes to poker games. Some of the most well-liked poker variants in Sweden are No-Limit Texas Hold 'Em (NLHE), Pot-Limit Omaha (PLO), 5-Card Pot Limit Omaha (PLO5), Open Face Chinese (OFC), and the more unusual Sviten Special, also known as Drawmaha. Among the poker variants played on Pokio, 5-card Omaha is the most common. At most stakes, the count of grinders at a cash game table is manageable.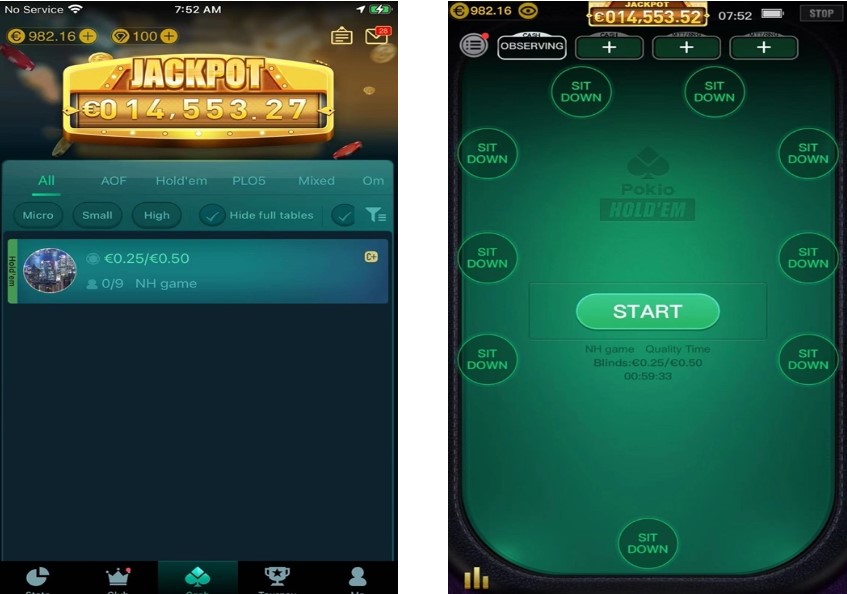 In addition to these cash game varieties, you can sign up for any number of daily MTTs or SNGs for a more action-packed poker experience. Depending on the level of play, a poker table can accommodate anywhere from two to eight players. Heads-up tables are also accessible for players who prefer the game's purest form.
Pokio poker, like other real money poker apps with agent systems such as pokerrr2, doesn't have a central player pool where everyone would be competing with one another at the same tables. You can join as many clubs as you like until you find one that feels like home, even though everyone uses the same app. As a result, we've researched and tried out a variety of Pokio clubs to determine which ones offer the most exciting patron experiences. As such, we urge you to join as many clubs as possible so that you are never without exciting opportunities. Keep in mind that you only need one balance to access all of the clubs you've joined, drastically cutting down on the Pokio budget.
By joining a circle (Pokio's version of a union), club owners can expand their player pools to include members of other clubs in the same circle. Pokio's player traffic is currently lower than on other phone poker apps, but it is steadily growing thanks to the company's excellent marketing.
Pokio Rake and Rakeback
Pokio's standard rake is 5%, capped between 0.3 BB and 6 BB, depending on the stakes you play. We offer weekly Rakeback to make up for the greater cap in terms of BB's at micro and low stakes and the much lower cap at higher stakes. The rake is determined using the Weighted Contributed method, and there is a no flop, no drop policy like with most online poker sites. Here's how the rake breaks down depending on the size of your bet: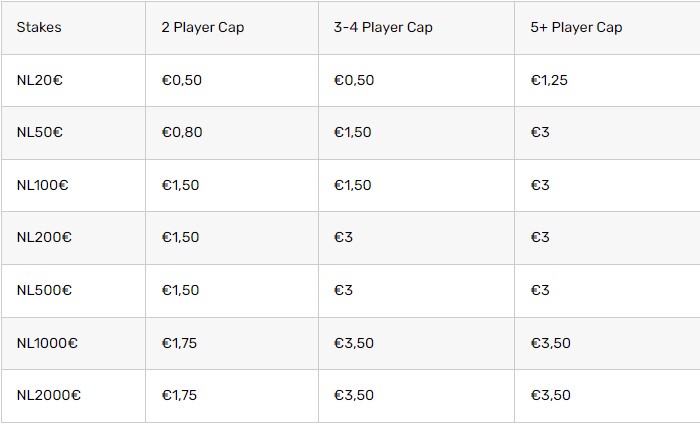 Club owners can offer as much as the circle's maximum Rakeback to their gamers on Pokio. The club's owners deposit the weekly player bonuses into the players' bank accounts. Even if you have a losing week, the club owner will still give you some extra cash to play with on the weekend. If you have any questions about the perks we offer our players, please contact us via Skype as well as email.
Do Pokio Clubs Run any Advertising Campaigns?
Efforts to spread the word? To my surprise, you've actually found the right place! Guaranteed tournaments, freerolls, the Pokio Super Summerfest series, and other exciting promotions are regularly offered at Pokio poker clubs. Your Pokio player rewards will increase in size the more you play. Some clubs even let you play against famous pros, and regulars at most Pokio rooms are rewarded with perks like Rakeback every week.
How do I Fund my Pokio Account and Withdraw Funds?
Possessing a valid gaming license from Malta gives Pokio a leg up on the competition regarding money transfers: the company can provide a cashier function within the app itself. Some of these techniques may not be available in your country, so keep in mind that you may need to make adjustments.
Pokio accepts the following payment types:
Visa
Klarna
Interac
Neteller
Skrill
ecoPayz
Mastercard
MuchBetter
AstroPay
Paysafecard
Adding funds to your Pokio account is as easy as going to the Wallet section, clicking the deposit button, and then following the on-screen instructions for your selected payment method.
Pokio Account Creation
When you're ready to try Pokio, you can install the Pokio app from the Google Play Store or the Apple App Store, respectively. Select Sign Up once the app has been downloaded and installed on your device, then enter your preferred Username and Password.
After signing up, contact us through the website's chat feature (found in the lower right corner) or via Telegram, and we'll link you up with the best clubs on Pokio and the highest Rakeback offers.
Playing at the Pokio PC Version
Although this Pokio app is designed for use with mobile devices, it can be run on a computer with an Android emulator. You can play Pokio on your computer by installing the app from Google play store and running it using an Android emulator.
Frequently Asked Questions
Is Pokio fair or a scam?
Pokio is authorized to provide its services by virtue of its B2B Gaming Service License issued by the Malta Gaming Authority. The regulations for remote gambling mandate that all player funds be held in Sata accounts. To ensure the fairness of their tables and the integrity of their system, Pokio reviews log files and performs security checks.
If you want to get the Pokio app, where can you do that?
To get the app, point your smartphone browser to pokio.com and use the download button there. You can also search for "Pokio" in the App Store or Google Play to locate the app.
Is it possible to play Pokio using an emulator?
Absolutely! If you wish to play this game for real money on your desktop or laptop PC, you can use an Android emulator to run Pokio without any problems.
How about monitoring tools like HEM?
Using external HUDs or tracking software such as HEM or PT4 is not permitted on Pokio. A lack of tracker support is good for players' long-term success because it helps maintain a balanced player ecosystem.
In what ways does Pokio accept deposits?
Skrill, Neteller, Visa, and Mastercard are just some of the accepted deposit methods. If you'd rather deposit funds from a linked bank account, Pokio also supports the Rapid Transfer option.
The first time I used Pokio, how do I fund my account and withdraw my money?
Pokio's deposits and withdrawals are processed as in-app buys. Withdrawals over 2,000 EUR require account verification via submission of a photo ID and proof of residence to Pokio. To ensure you join the best Pokio poker clubs for your desired cash games and stakes, make sure to contact our chat on the website, Skype contact@casinoonlinetf.com, or Telegram at @Casinoonlinetf before making your initial deposit. After making your initial deposit, you'll have instant access to your favorite poker games.
Is a PC necessary to play on Pokio?
Although no Windows software is currently available, you can still use an Android emulator to run the Pokio app on your computer.
Where can I download the Android version of Pokio?
Just go to pokio.com immediately and hit the Download button.
The Pokio platform supports Macs, so you can play it on yours! The Mac OS client isn't supported, but you can use Bootcamp to run Windows and an Android emulator with the Pokio APK file to play the game.
For what reasons should I join Pokio through CasinoonlineTF?
Our extensive network in the poker world allows us to negotiate special deals for our customers with the best real-money poker app developers and club owners. When it comes to Rakeback, we always give our Pokio club members the highest possible percentage.
Are the wild games I've heard about on Pokio actually that wild?
Let's just say that during our time of testing the app, we came across some rather flashy tables, particularly in 5-card PLO, where the cash games with antes could indeed play quite big. Those who are bored with the usual poker variants can switch things up with some wild Drawmaha games. The goal of the Pokio app is to provide players with social and entertaining poker expertise, and so far it has done a decent job at that!
Where can I go to learn more about Pokio, as I have an inquiry about it that wasn't covered here?
You can find clear answers and information on almost any imaginable topic at pokio.com/support, which is Pokio's comprehensive support page.