If you want all the fun of poker without having to play mind games, video poker is the answer. You don't have to worry about reading fellow players because it's only you versus the machine. And, video poker gives you a real shot at beating the house and making some real money. If that sounds good to you, read on to find out how the game works and what strategy you can use to improve your skills.
How to play video poker
The game starts when you are dealt a hand of five cards. You can then decide which to keep and which to discard. Another round of cards will be dealt to replace the ones which you have discarded. Depending on what cards you have in the final round, you'll be paid out according to the payout table and the size of your bet.
The first thing you should do is get to know all of the different winning hands or combinations. For example, a Full House is a hand that consists of a pair of numbers and three of a kind. A Straight Flush is a hand that has consecutive numbers and the cards are all the same suit such as the 9, 10, Jack, Queen and King of Aces.
Video Poker tips and strategy
Part of what makes video poker so appealing is that you know exactly how much you'll win for each hand before you start playing. As with online slots machines, most video poker machines offer players a return of between 90%-97%. Right from the start, you can start looking for machines that give you a better return on your bets.
The real strategy employed in video poker involves finding the right machine. You'll want to look for a machine that pays out nine times your wager for a Full House and six times your bet for a Flush. These machines are often referred to a 6/9 machines and the most popular online video poker game is Jacks or Better.
A quick glance at the payout table will tell you whether the machine offers you the best odds.
The following list will help you to decide which cards to keep and which to discard when playing a Jacks or Better full pay machine. You can even print this out and keep it next to you as you play: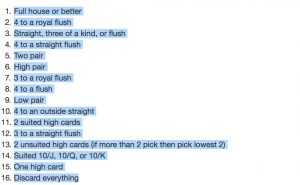 Let's use an example to illustrate how you can use these guidelines. Let's say you've been dealt a hand that consists of 9, 7, Jack, 3 and 2. Which cards should you hold on to? A quick glance at your list should reveal that the answer is the Jack.

See point number 15, where you only have one high card. If you discard the rest of the cards, you could be dealt another Jack. On the Jacks or Better video poker machine, you need at least a pair of Jacks to ensure a payout.
With a little practice, you'll soon know exactly which cards to keep without referring to this list. Not only will you improve your poker playing skills, you'll also have more fun playing video poker machines.